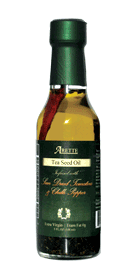 Ingredients:
Tea Seed Oil (Tea Oil),Sun Dried Tomatoes,Chilli Pepper Basil Leaf, Galic Oil
Extra Virgin
5 FL.OZ (148 ml)
Tea Seed Oil (Tea Oil) is cold pressed from the seeds of Camellia Oleifera, a cousin of the tea plant, Camellia Sinensis.
This exquisite oil contains high monounsaturated fatty acid (oleic acid 79.55%), Vitamin E and tea polyphenols. It is excellent for salad dressings,dips and flavoring. Enjoy the unique taste & extraordinary health benefits.