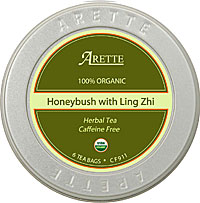 100% ORGANIC
Honeybush with Ling Zhi
Caffeine Free Herbal Tea
Net Wt: 13.2 g (0.47 oz)

CF 911
Honeybush with Ling Zhi
Ingredient: 100% ORGANIC
Honeybush, Ling Zhi & Licorice Root
Certified Organic by IMO Product of China/USA


Honey Bush is often used to make a herbal tea. Ling Zhi (Ganoderma - "Herb of spiritual potency")has been used in Chinese medicine for thousands of years.
*Today, many use to benefit the heart, internal organ, brain and blood circulation system. This is also an important herb to enhance the immune system and anti-stress.

Brewing Suggestions: Bring the water to a boil. then pour it over the Arette 100% Organic Honeybush Tea bag and have it steep for 3-5 minutes.

Now, enjoy the first cup of tea with the refreshing Honeybush tea flavor. From the second refill you will notice the enticing aroma and flavor of the Ling Zhi.
*These statements have not been evaluated by the Food and Drug Administration. This product is not intended to diagnose, treat, cure or prevent any disease.