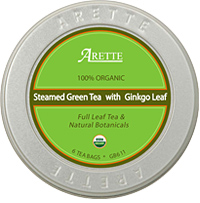 100% ORGANIC
Sencha Green Tea with Ginkgo Leaf
Full Leaf Tea & Natural Botanicals
Net Wt: 16.2 g (0.57 oz)

GB 611
Sencha Green Tea with Ginkgo Leaf
Ingredient: 100% ORGANIC Sencha Green Tea, Ginkgo Leaf & Rosemary Leaf
Certified Organic by IMO Product of China/USA

Sencha Green Tea is one of the finest of Green tea, Picked in early spring, the tea leaves are steamed and dried to preserves the nutrients of the tea leaves. The Scncha Green Tea series utilizes only 100% Certified Organic ingredients and blends the finest teas with natural botanical in order to provide maximum health benefits and unique tastes.Ginkgo Leaf has been used in Chinese medicine for thousands of years.
*Today, many use ginkgo leaves to help improve memory and prevent Alzheimer's disease. Infused in the Sencha green tea, the Ginkgo flavor will enhance your tea experience.


Brewing Suggestions: Bring the water to a boil. Let it cool down a little bit, then pour it over the Arette 100% Organic Sencha Green Tea bag and have it steep for 3-5 minutes.

Now, enjoy the first cup of tea with the refreshing Scncha Green tea flavor. From the second refill you will notice the enticing aroma and flavor of the Ginkgo leaf
.*These statements have not been evaluated by the Food and Drug Administration. This product is not intended to diagnose, treat, cure or prevent any disease.